Sweating, shaking, insides screaming. Hands grasping for a hold, any hold. Classic gritstone: no positive edges or crimps to firmly curl my fingers around, only slopey ledges just out of reach, teasing and taunting me. My eyes dart to the gear below me that I know is good, but logic is not my friend in these situations. As the panic builds, all rationality that this is safe, that I will be fine has gone, my insides just scream I cannot fall, I cannot fall.
For some reason this is what I used to enjoy doing with the majority of my weekends while I was at university: scaring myself silly at some grit crag in the Peak District, pushing myself into leading routes and then more often than not crying my way to the top. Most people normally prefer to do things with their time that don't have them in tears, but I would always go back for more. It's so easy to stand at the bottom of a route and tell yourself that you won't get scared this time, you'll keep calm, try out a new breathing method, or focus on a tiny point on the rock to calm yourself, but once you're up there above gear without any good handholds pumped silly, it usually all goes out of the window. You're frantically searching for something positive to hold onto, the panic and tears building, I would tell myself I hated this, I hated being scared, I hated leading. I would question why on earth I kept doing this to myself, as I panicked on my insecure hands and feet. But I would never give up. I had always climbed with people who didn't sit on their gear, even if they knew it would hold. They got to the top or they fell. And since there was no chance that I was going to let myself fall, I would have to get to the top.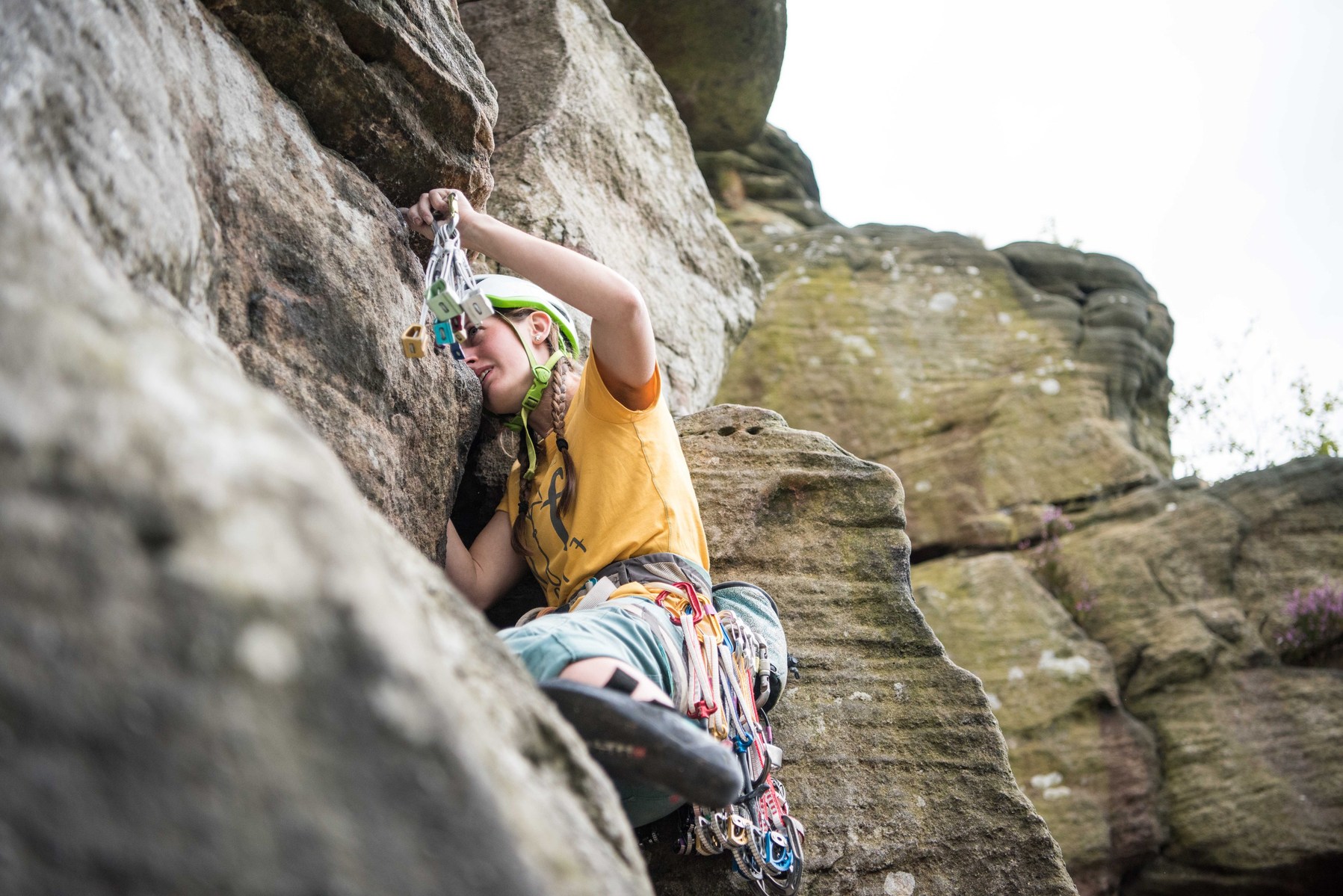 As I began to climb more and more, I started to notice something. Arriving at a trad crag as a woman when climbing with a man, it felt as if most people assumed that the man would be the leader. That if the woman was leading, she would only be leading easy routes. That the man would be the one who was climbing harder. This somewhat unspoken view was another reason I continued pushing myself to lead - I wanted to fight that perception and prove that a woman could arrive at a crag and be the leader, that gender should have nothing to do with whether or not you were going to lead, or what grade you were going to climb.
I was very lucky that when I started climbing at university there were a number of other women who joined the climbing club at the same time as me, including two particularly psyched women who became my regular climbing partners. On our club's regular outdoor climbing trips we would group up, channelling the psyche that new climbers seem to possess, where it doesn't matter what you're climbing, what grade it is is, what the weather's like - as long as you're on rock, you're happy. It was great climbing as a group of three women, as it broke all of the stereotypes at the crag - when you're all women, one of you has to be the leader. I think we all enjoyed challenging this unspoken view, and so despite all the fear, I kept pushing.
For me, climbing with other women as I learnt to lead was hugely important. When you climb with a group of women who are all pushing a similar grade, you become each other's role models. If someone has a similar build to you, the same amount of experience, and they are climbing 2-3 grades harder than you, it starts to make that grade feel achievable - it makes you keep pushing.
Slowly, I built up a large base of easy routes. I frequently struggled to keep a lid on the fear, but by climbing a lot of routes at the same grade, I slowly started to become more comfortable with leading. I spent my indoor climbing sessions throwing myself into fall practice, jumping off again and again, struggling each time to let go above the bolt, but once I did, finding that I actually enjoyed the rush of adrenaline as I fell.
Logic was still not my friend though. Although I now knew that I actually enjoyed falling, when I was outside above my gear, I couldn't reason with the panic that flooded through me as soon as I didn't feel completely secure.
Stepping away from the grit and finding a style that suited me made a huge difference to my climbing. Pembroke, with its rough, textured limestone that eats as many nuts as you can throw at it and gives solace in jugs, crimps and positive edges, was my wonderland. I found I could push myself without panic setting in. It didn't matter if the holds were small, if they were positive I found I could stay calm.
As I slowly started to push my grade, I found that most of the time I was still outnumbered as a woman at the crag. I still felt that as a woman, a lot people didn't seem to expect me to try hard. But I wanted to try hard - I had realised the main reason I kept pushing myself to lead: however panicked and scared I was on a route, however much I felt like I never wanted to lead again, the indescribable feeling you get when you reach the top of a climb you've had to try really hard on is overpowering. It makes you forget the lengths of the struggle that you've just had, and convinces you to keep pushing yourself.
After a couple of years I had established an extensive base of routes between Severe to HVS, each one adding to my experience, and building my confidence. Then in April 2016 I climbed Debauchery at High Tor, my first E1. I was climbing with my friend Ellie, and the matter of fact attitude she took on that day was what made me get on the route. She didn't build it up as a big deal, and my gender didn't have anything to do with it, she just suggested it as our next route, led the first pitch herself, and then calmly handed me the gear. And I didn't even panic.
In June 2016, Ellie and I attended the Women's International Climbing Meet in Llanberis. A group of strong, talented and psyched women from all over the world came to North Wales for a week of making friends, sharing stories and trying hard. It was awesome to spend time surrounded by women who climbed so much harder than me and seemed so fearless; suddenly it was normal to climb E4, E5, or harder. It felt easier suddenly to push yourself, when surrounded by these inspiring women.
Maybe the best part of the week was spending a day on the intimidating cliffs of Gogarth while absolutely overrun by women. Seeing the usual crag ratios flipped around was awesome, as was seeing the shocked expressions on the faces of the only two men at the crag.
After the event, Ellie and I were keen to somehow recreate the atmosphere we'd experienced. We had loved the magic of climbing with a big group of women and how inspiring it was to see a crag full of women who seemed so fearless. We had just finished university, and we started to notice how hard it was to learn to trad climb for someone outside of a university club unless you knew a group of climbers who were happy to teach you, or you were committed enough to pay for a course.
This was what sparked the beginnings of the Women's Trad Festival, an event we set up that same summer to support, connect and inspire climbers. We wanted the focus to be on women as were keen to nurture what we felt was still a minority group, and recreate the psyche we had experienced at a crag full of women. We wanted to give women the chance to learn how to trad climb in an environment they felt comfortable in, with the hope that we could inspire more women to climb outside, and break the stereotype once and for all.
Meanwhile, my battle with fear continues. Once upon a time I thought that once I had climbed E1, I would be comfortable at the grade. It doesn't work like that though - climbing is a journey, and you take steps backwards as well as forwards. It's been so important for me to find inspiring women to climb with, to build a base of easier routes, to keep doing fall practice: pushing myself mentally, and learning physically how to fall safely.
However, some days I can still become a quivering mess on something three or four grades lower than what I would usually climb. I can still have a good cry on something that I thought would be easy. Slowly, I've learnt that you should never just 'expect' that you will be able to climb something, and you should definitely never assume that something is going to be easy. You need to discover what it is that keeps you going when you're scared, and keep pushing through.