REVIEW: Hiking in Iceland with the Rab Women's Mantra Jacket & Women's Rab Kinetic Plus Jacket
December 10, 2019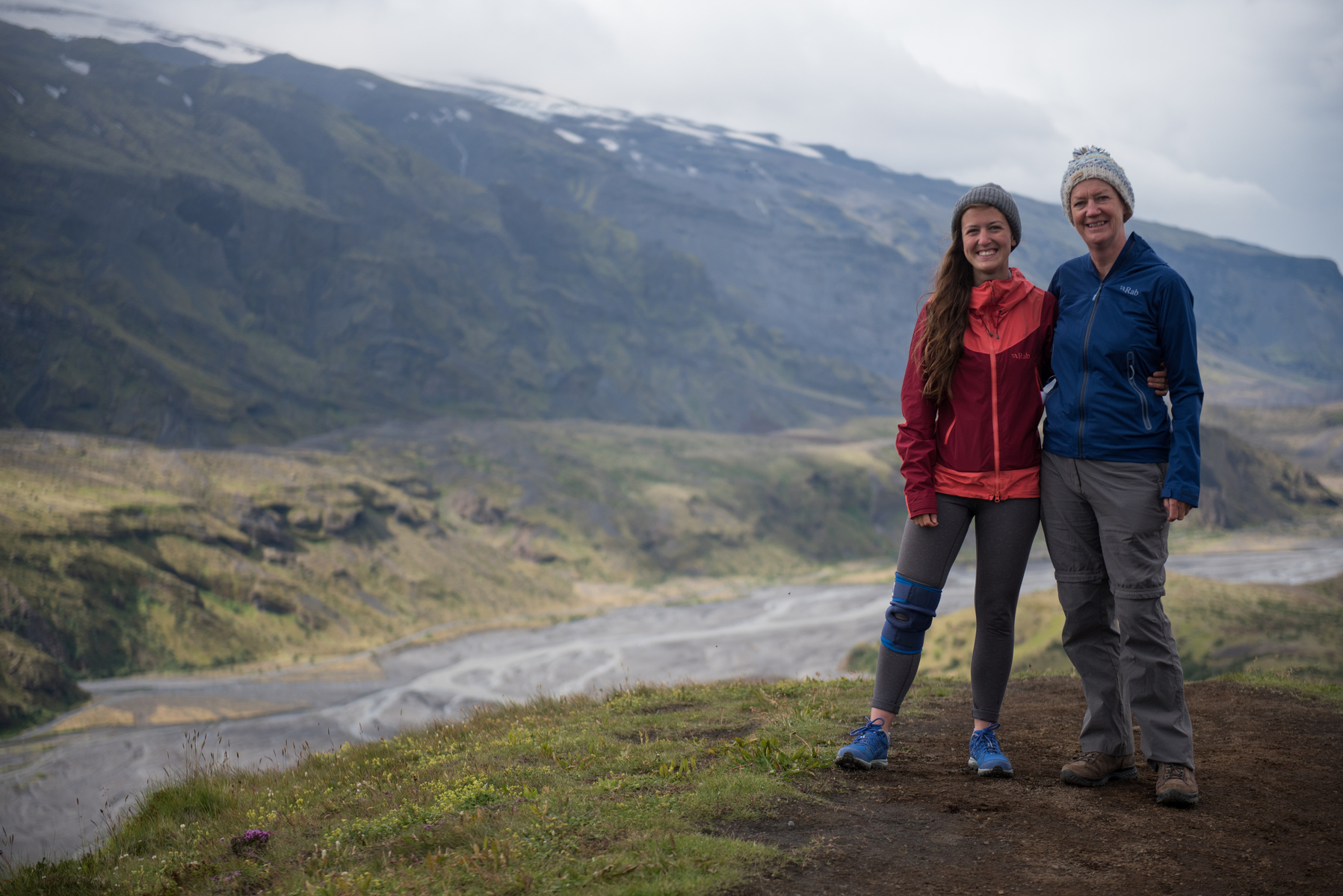 Hiking through the dramatic and fairly unforgiving Icelandic landscape of Laugavegur, the rain beating down on us, my mum Sue and I were glad to be testing out some new Rab waterproofs!
When booking our trip to hike the Laugavegur Trail in southern Iceland, we had checked the forecast for July and seen that it would not be unlikely to be faced with 4 days of heavy rain and pretty chilly conditions! We were pretty happy to be kitted up in the Kinetic Plus Jacket, and the Mantra Jacket, to make sure we would be ready for any of the weather Iceland could throw at us.
Women's Mantra Jacket - Charlie
The Fit
As a smaller than average person, at 5"3 I can sometimes find that even the smallest sizes of outdoor jackets can be too big, particularly in the arms. However this was not the case for the Mantra Jacket in XS/size 8 - it fit perfectly on the body and arm length, and had enough room for a couple of layers beneath it, without it looking too large with only a baselayer underneath.
It has velcro wrist cuffs which are perfect for securing in heavy rain, and the hood is also adjustable so it could be worn over a helmet, but was also able to be cinched down when hiking for a good fit.
Uses
As well as being super waterproof and great for a big downpour, the Mantra Jacket is windproof, making it a good layer if it's blowing a bit of a hooley. The Pertex Shield Pro 3L fabric is comfortable against your skin, so for a lot of the trip I would wear it with only a t-shirt underneath in warmer but windier weather.
It was the perfect jacket for Iceland as you're never quite sure when the rain is going to come, so I wore it most days even when the sky was brighter, just in case the weather turned quickly, as we quickly found out Icelandic weather could be rather finicky!
Features
The Mantra Jacket has two big external pockets, as well as an internal chest pocket which can be useful in case of heavy rain for storing a phone. Everything in my pockets stayed dry and functional despite any rain showers.
The helmet compatible hood will definitely come in useful on mountain climbing adventures, and the wired peak was great for maintaining visibility in heavy rain.
Aesthetics
I loved the aesthetics of the Mantra Jacket. After spending years complaining about womens' clothing only being available in pink and purple, I felt slightly rogue choosing the potentially controversial Passta (pink) colourway, but it's actually more of a burgundy/peach combo. I thought this looked great with the impressive Icelandic scenery, as the colours contrasted brilliantly with the greeny grey landscape. I also liked the use of the two different shades on the jacket.
For those who aren't so keen on pink, there is a lovely Serenity (blue) colourway, and a Beluga (black) colourway for a more muted choice.
Overall
I really love the Mantra Jacket - it's an uber waterproof jacket that keeps you dry and looks great, as well as having lots of useful features like the helmet compatible hood and a multitude of pockets. This is now my go to jacket back in the rainy UK!
Women's Kinetic Plus Jacket - Sue
The Fit
I'm usually a Size 10, and the Kinetic Plus Jacket in a small/size 10 fit perfectly. The slim fit looked good with only a baselayer underneath, but there was also enough room to fit a synthetic underneath in colder weather.
The close fit hood was great for keeping dry in showers, and the stiffened peak ensured visibility was maintained.
Some outdoor jackets can look a bit bulky, but the Kinetic Plus is so form flattering that I wear it to work most days now that I'm back.
Uses
The Kinetic Plus is a great combination between a softshell and a waterproof jacket, making it super lightweight and ideal for a multi-day hiking trip. I was slightly nervous that it wouldn't be fully waterproof in downpours, but I found it kept my dry through everything Iceland threw at us.
It packs down small, so is easy to fit in your bag if you need an emergency waterproof layer. Since being back in the UK (which has similarly fickle weather to Iceland…) I've been wearing it to work almost every day, as it's small enough to keep in my bag all the time.
Features
The Kinetic Plus has adjustable cuffs, and a close fitting stretchy hood, perfect for keeping the rain out. The hood also has a laminated and stiffened peak which makes it much easier to see where you're going in bad weather!
The jacket also comes with a little stuff sack, which makes it super easy to pack it away small in your bag.
Aesthetics
I chose the Blueprint (navy) colourway which has light blue highlights on the logo and zips. Picking a slightly more muted colour made the jacket more versatile for me, so I can wear it to work. The Steel (grey) colourway would work well for this too.
If you enjoy a more 'loud' option, it's also available in Dark Sulphur (yellow), and Amazon (blue).
Overall
With the Kinetic Plus being so lightweight, I wasn't sure it would quite be up to the challenge of keeping me dry in the changeable Icelandic weather. However, its waterproof membrane stood up to the challenge, and meant the jacket was much more flattering than other more bulky jackets, as well as being super packable. It's become the jacket I always have in my bag back in the UK, ready for similar levels of rain as when we were away!